Women make modest gains in Election 2008
More women serve in state legislatures, but the United States is far behind many other countries.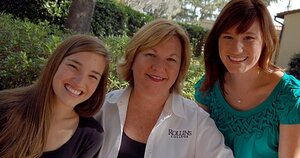 Amy Green
For women in politics, 2008 was both an extraordinary and an ordinary year. The extraordinary – the candidacies of Hillary Rodham Clinton and Sarah Palin for national office – dominated headlines and sparked national discussions about gender and power.
But even as the highest glass ceiling in American politics came the closest it ever has to being shattered, in Congress it was business as usual: Women made a net gain of one seat in the Senate, bringing the total to 17 out of 100, and three seats in the House, moving up from 71 to 74 out of 435 seats, or 17 percent. At least the numbers keep going up, say advocates for women in politics, but the United States still lags woefully in world rankings.
As of Oct. 31, the US ranked 71st out of 188 countries for its percentage of women in the lower House, according to the Inter-Parliamentary Union.
"At this rate, it will take us till 2063 to reach parity," says Marie Wilson, president of the White House Project, an organization working to advance women in leadership. "I mean, come on! We have to speed things up."
At the state level, the pipeline into federal office, there were some bright spots in 2008: A record number of women, 2,328, ran for state legislatures in a presidential election year, surpassing the previous presidential-year record of 2,302 set in 1992. (The overall record was set in 2006, when 2,429 women ran. More state legislative seats are up for election in non-presidential election years.)
---