Obama and McCain meet amid bipartisan symbolism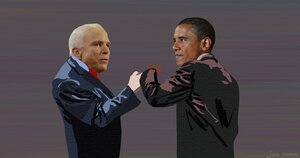 Jake Turcotte
Lest there be any danger that the public miss the gathering's bipartisan theme, Monday's meeting between President-elect Barack Obama and Senator John McCain had an American flag between the two men and flags flanking them on either side.
"We believe that Americans of all parties want and need their leaders to come together and change the bad habits of Washington so that we can solve the common and urgent challenges of our time," the men said in a joint statement released after they met.
The former adversaries added that they "had a productive conversation today about the need to launch a new era of reform where we take on government waste and bitter partisanship in Washington in order to restore trust in government, and bring back prosperity and opportunity for every hardworking American family."
Rahm and Lindsey
Each man brought one aide to the three flag gathering, held at the Presidential Transition Office on the 38th floor of the Kluczynski Federal Building in downtown Chicago.  Seated around a low wood coffee table with the former candidates were Rep. Rahm Emanuel [D] of Illinois who will be Obama's White House chief of staff, and McCain's loyal sidekick during the long campaign, Senator Lindsey Graham [R] of South Carolina.
---