Holder: Obama's seasoned pick for attorney general
An experienced hand at Justice, he would shift priorities on detainees and domestic surveillance.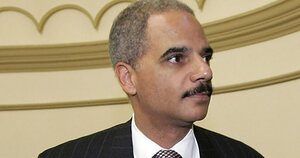 Susan Walsh/AP/File
President-elect Obama's pick of Eric Holder to serve as attorney general would bring to the new administration a widely respected lawyer with extensive experience as a judge, prosecutor, and litigator.
It would also add to the historic nature of the Obama White House. If confirmed, Mr. Holder will become the first African-American attorney general, the top US law enforcement officer.
Holder will likely win relatively easy confirmation in the Senate, political analysts say. But some note that he could face close questioning about his involvement in two controversial Clinton administration pardons: those of fugitive businessman Marc Rich and 16 Puerto Rican nationalists with the terror group FALN.
At the time, Holder was the No. 2 official at the Justice Department, served briefly as acting attorney general in the waning days of the Clinton administration.
Holder was a co-chairman of Mr. Obama's presidential campaign and served on the committee that selected Sen. Joseph Biden to run as vice president.
He is a partner at the Washington law firm Covington and Burling, where he specializes in complex civil and criminal cases and internal corporate investigations. He has also been a prominent advocate for liberal and progressive legal causes, supporting the restoration of voting rights for convicted felons and, most recently, signing on to a friend of the court brief embracing Washington's strict ban on handguns. The US Supreme Court struck down the ban in June.
---