Arizona Governor Napolitano tapped as new Homeland Security chief
The vocal immigration reformer brings border-state experience to the post.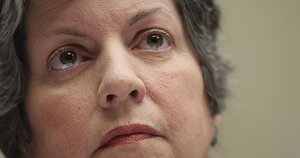 Lauren Victoria Burke/AP/FILE
The popular two-term governor of Arizona, Janet Napolitano, has been tapped by President-elect Barack Obama to head the Department of Homeland Security (DHS).
Her responsibilities would include such high-profile and hot-topic issues as immigration enforcement, federal disaster response, and airport security.
As a border-state governor, Ms. Napolitano brings experience to the role of immigration enforcement. She vetoed several tough illegal immigration bills put forward by state Republicans. She also supported the comprehensive reform efforts in Washington that were ultimately shot down last year by opponents of illegal immigration.
Napolitano has been skeptical that building a fence along the border will solve the immigration problem. She once said, "You build a 50-foot wall, somebody will find a 51-foot ladder."
However, she also was the first governor to call in the National Guard to beef up border patrols. And her state passed a law last year that requires all Arizona businesses to use the federal online database, E-Verify, to confirm that new hires have valid Social Security numbers and are eligible for employment. This has been a cornerstone of the Bush administration's immigration policy.
---