Will Stevens's ouster be good for Alaska?
He delivered 'the goods,' but his successor aims to do things the senator couldn't, like open ANWR to drilling.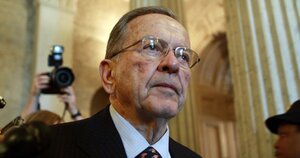 Al Grillo/AP
When a Democrat last represented Alaska in Congress, Jimmy Carter was president, the trans-Alaska oil pipeline was new, and Mark Begich was a teenager known for staging Friday Night Fever disco dances that packed hundreds of booty-shaking kids into a downtown Anchorage ballroom.
Now Mr. Begich, the Democratic mayor of Anchorage, is on his way to the US Senate, having toppled the icon known variously as "Uncle Ted" for the billions of federal "Stevens dollars" he secured for Alaska, "senator for life" for his political longevity, and "Alaskan of the century" for his outsized contributions to Alaska's progression from a poverty-stricken outpost into a petrodollar-fueled modern state.
The changing of the guard, probably helped along by Sen. Ted Stevens's conviction Oct. 27 on federal corruption charges, is prompting residents to wonder how the loss of a very senior senator – one who hasn't been shy about using his appropriations clout to net goodies for his home state – will affect Alaska's future.
Indeed, when the new Senate convenes in January, the only states whose senatorial duo will be more junior than Alaska's will be Colorado, North Carolina, and Virginia (and possibly Georgia and Minnesota, pending the outcomes of their Senate races). Given that seniority equals power in the Senate, Alaskans would be wise not to expect anything close to the $3.4 billion in pet projects that Senator Stevens delivered between 1995 and 2008.
---