Capitol Hill feels Obama's hand
The president-elect's influence is altering both policy directions and the partisan tone in Congress.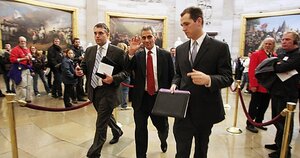 Lauren Victoria Burke/AP
Even before taking office, President-elect Barack Obama is becoming an essential player in decisionmaking on Capitol Hill.
From the pre-Thanksgiving "pardon" of Sen. Joseph Lieberman (I) of Connecticut to the shape of an economic recovery plan, the Obama team is setting directions even as it reaches out to both sides of the aisle in a bid to set a new tone and fast-action pace for the next Congress.
First the tone: practical, pragmatic, and – at least for now – essentially bipartisan.
In a break with recent practice, orientation events for incoming lawmakers were bipartisan – a tribute to Mr. Obama's calls for a new tone on the Hill. Freshmen gathering here last week noted that House Speaker Nancy Pelosi urged them all to think as "independent representatives of your district" in the next Congress.
To signal a new tone, the speaker welcomed the freshmen with a bipartisan dinner – a first, she said – and led them onto the House floor together. "This class could be the class from which a spirit of civility and bipartisanship is strengthened in the Congress of the United States," she said at a Nov. 21 briefing.
His reputation for knife-edged partisanship notwithstanding, Obama's chief of staff, Rahm Emanuel, has been on a charm offensive among Senate Republicans to solicit their ideas about education, healthcare, taxes, energy policy, and national security.
---