As Latinos tilt Democratic, can Texas stay 'red'?
The Lone Star State is the last big GOP bastion where Hispanics are a sizable voting bloc.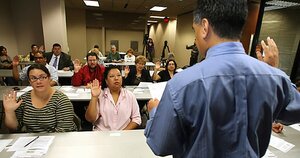 Victor Calzada/El Paso Times/AP/File
When President Bush says so long to Washington on Jan. 20, he'll return to a much different Lone Star State from the one he left eight years ago.
Pickup trucks, Big Oil, and barbecue brisket still reign supreme, but this red state that helped deliver the presidency to Mr. Bush twice and his father once, and that catapulted GOP strategist Karl Rove to the national stage, is suddenly spotted with big pockets of blue.
Dallas is controlled by Democrats; Houston is in their hands, too. It's all largely because of the state's growing Hispanic population, which overwhelmingly sided with Democrats this year.
"The tide of demography in Texas is moving against the Republicans," says Cal Jillson, a political scientist at Southern Methodist University in Dallas. "All the major cities are Democratic and are likely to become more so over time."
---