Who will fill Obama's Senate seat?
The Illinois governor has promised to name someone before the end of the year.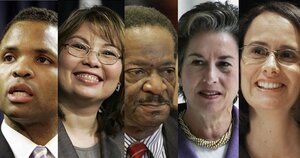 AP/File
Most of America is watching President-elect Obama shape his cabinet, but in Illinois, the political junkies are riveted by a guessing game closer to home: Who will be tapped to fill Mr. Obama's seat in the US Senate?
A similar question has already been settled in Delaware: Edward Kaufman, a longtime aide to Sen. Joseph Biden, will take his Senate seat after Mr. Biden assumes the vice presidency. But speculation about the Illinois pick has run rampant. Gov. Rod Blagojevich (D) has promised to name someone before the end of the year. [Editor's note: The original version misidentified Sen. Biden's state.]
Opinions differ sharply on key questions: Does the replacement need to be an African-American to ensure that the Senate will continue to have at least one black member? Should it be a "placeholder" who doesn't plan to run in 2010, or someone who has a good shot at winning a statewide election in two years? Will Governor Blagojevich seek to help his own dim chances at reelection by naming one of his political rivals?
---