With Chambliss, Republicans win one in the South
GOP's conservative base in Georgia prevents a Democratic filibuster-proof majority in the US Senate.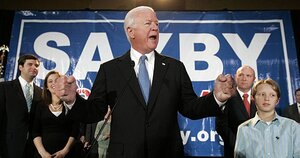 John Bazemore/AP
Georgia voters reelected an unpopular Gingrich-era Republican senator here on Tuesday, dashing Democratic hopes of a filibuster-proof majority in the United States Senate and giving a small moral victory to Southern conservatives a month after losing a seismic presidential election.
In the final vote of the 2008 election season, Saxby Chambliss beat his college fraternity brother, Jim Martin, by a handy 57 to 43 percent in a race that involved an invigorated Republican ground machine, millions of dollars pouring in from out of state, and candidates abandoning constructive campaigning to bash each other with nasty TV ads.
While the state of the US economy makes it tough to draw broad political conclusions, Senator Chambliss' victory showed many Republicans that the party is not as down and out as many have predicted and that the Democrats, despite their successes in the November election, can still be vulnerable.
"The emerging story, particularly after Tuesday, is you're going to see the reemergence of a very muscular Republican ground game," says political consultant Ralph Reed of Atlanta.
The stakes here were high, both for measuring the electorate's druthers and for gleaning insight into the possibilities for the nine Southern Senate seats that are expected to be contested in the 2010 midterm elections.
---