Feds arrest Illinois governor for corruption
Blagojevich 'corruptly used his office,' US says after a wiretap probe.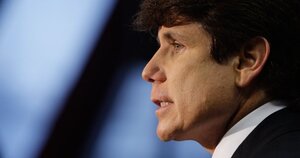 M. Spencer Green/AP/File
Illinois Gov. Rod Blagojevich was arrested Tuesday on federal corruption charges, including that he conspired "to sell or trade" an appointment to the US Senate seat being vacated by President-elect Obama.
The arrest makes Governor Blagojevich, a Democrat, the second Illinois chief executive in a row to face charges of pay-to-play politics, a dispiriting event for residents weary of the state's reputation for seamy politics. His predecessor, Republican George Ryan, is serving a 6-1/2-year sentence for a corruption conviction two years ago.
"The breadth of corruption laid out in these charges is staggering," US Attorney Patrick Fitzgerald said Tuesday in a statement. "They allege that Blagojevich put a 'for sale' sign on the naming of a United States senator; involved himself personally in pay-to-play schemes with the urgency of a salesman meeting his annual sales target; and corruptly used his office in an effort to trample editorial voices of criticism."
Blagojevich was arrested along with his chief of staff, John Harris. Each was charged with conspiracy to commit wire and mail fraud and solicitation of bribery. At a press conference, Mr. Fitzgerald characterized the governor's actions as "a political corruption crime spree."
---