Blagojevich case is part of feds' focus on graft
The FBI is probing some 2,500 public corruption cases – a 50 percent jump since 2003.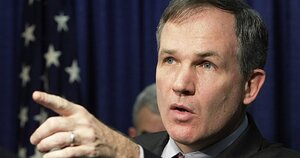 Charles Rex Arbogast/AP
Illinois Gov. Rod Blagojevich is just the latest in a recent string of high-profile political officials accused or convicted by the federal government of mystifyingly blatant public corruption.
From Sen. Ted Stevens (R) of Alaska, convicted in October of hiding hundreds of thousands of dollars in gifts and home renovations given to him by a political supporter, to Rep. William Jefferson (D) of Louisiana, who faces a trial on bribery charges next year following the FBI's discovery of $90,000 in his freezer, the list of tainted politicians is long and colorful.
The Federal Bureau of Investigation in recent years has redoubled its efforts to root out public misconduct, accounting for some of the apparent trend. But in general, the catching of multiple hands in multiple cookie jars is a reminder that corruption has no party, temptation is constant, and "constant vigilance" is a good mantra for voters to keep in mind.
"This proves once again that power can make people stupid," says Bob Edgar, president of Common Cause, of the Blagojevich allegations.
---