Healthcare: Obama presses ahead
Its reform is integral to reviving the economy, he signals, with his pick of Daschle as point man.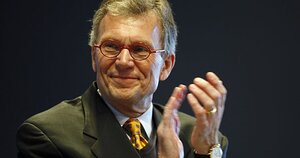 David Zalubowski/AP/file
President-elect Obama's announcement that Thomas Daschle will be his point man on healthcare reform signals that the issue remains at the top of the agenda, despite the economic meltdown and the mounting deficit.
Throughout the campaign, candidate Obama repeatedly called reform of the US healthcare system a high priority. As the economy began to unravel, however, the steep cost of reform – estimated at between $50 billion and $65 billion a year – prompted many pundits and policymakers to predict that it would have to be put on a back burner.
But in designating the former South Dakota senator to head the Health and Human Services Department, as well as the overall effort to reform healthcare, Mr. Obama made it clear he sees the reform as integral to his efforts to resuscitate the economy.
"The news is that healthcare is still on the agenda, and nobody really expected it to be," says Drew Altman, president of the Kaiser Family Foundation, a leading healthcare-research nonprofit organization, whose headquarters are in Menlo Park, Calif. "It has been redefined really from a healthcare issue [alone] to a piece of the larger economic issue."
---