Obama plans major speech in Muslim world to 'reboot' America's image abroad
How Obama addresses sensitive issues of democracy and human rights could help set the tone for efforts to distinguish himself from President Bush's administration.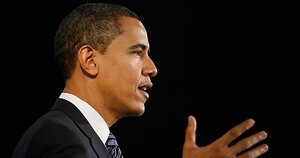 Charles Dharapak/AP
During the campaign, President-elect Obama put the goal of repairing America's image abroad – and in particular in the Muslim world – at the top of his foreign-policy agenda. Mr. Obama began defining how he intends to do that this week by discussing his plans to deliver a major speech in an Islamic capital, perhaps within the first 100 days of his presidency.
Obama's plan, still in the formative stages, immediately set off speculation over where the new American president would choose to deliver his message and what he would say.
"He has to develop how he plans to support and encourage democracy and human rights," says Radwan Masmoudi, president of the Center for the Study of Islam and Democracy in Washington. "It is something Muslims in general care deeply about, but it was used and abused by the [Bush] administration."
In an interview published Wednesday in the Chicago Tribune, Obama said such a speech would take advantage of "a unique opportunity to reboot America's image around the world and also in the Muslim world in particular."
Obama said he would convey a message of no-tolerance toward terrorism, while emphasizing the values America wants to share with the world.
---