Obama to arrive for inaugural via train - will pick up Joe in Delaware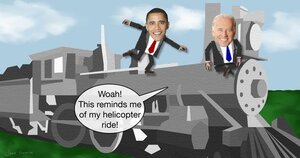 Jake Turcotte
Barack Obama plans a leisurely train trip to Washington before starting a new job that ensures he will be whisked from place to place in the fastest possible way,
The Presidential Inaugural Committee announced Monday that Mr. Obama and his family will board a train in Philadelphia bound for Washington on Saturday, January 17.
They will stop in Wilmington, Delaware to pick up Vice President-elect Joe Biden and his family.  (No, he's not traveling by helicopter -- although it would probably be a better story).
The group will then travel together, stopping in Baltimore, before arriving in Washington's Union Station.  No word if Biden's new dog will travel with them on the train.
A trip honoring tradition
"As part of the most open and accessible inauguration in history, we hope to include as many Americans as possible who wish to participate, but can't be in Washington," Emmett Beliveau, the inaugural committee's executive director, said in a statement.
The trip will include events along the way that Mr. Beliveau said would honor "the rich history and tradition of previous inaugural journeys."
---