Young Republicans seek a new kind of party
Reflecting an Obama age, they want more diversity and pragmatism, less partisanship.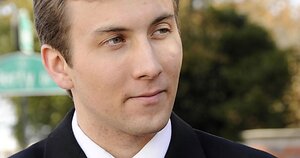 Mary Knox Merrill/Staff
Working out of the trunk of his car, recent law school grad Chris Dziedzic is criss-crossing New York State, talking about what he calls "true conservatism." Party elders are all ears.
In San Francisco, Jenniffer Rodriguez – young, Hispanic, and a lapsed Democrat – is creating the country's first Republican election central. It's a blogging, broadcast, and policy center smack in the middle of what she calls the "bluest of blue cities."
At the University of Georgia here in Athens, Steven Lee, the son of Korean immigrants, spends his days at the Student Learning Center blogging at TheNewRepublicans.net about how the GOP can take advantage of an electorate clamoring for realpolitik instead of partisanship.
More inspired than dejected about the meteoric rise of Barack Obama to the presidency, young Republicans, often working from state capitals in the Democratic heartland, are mounting an ideological and technological insurgency to change the course of the GOP.
Their goal is to use lessons from the historic 2008 drubbing to tie political pragmatism, diversity, and idealism to traditional conservative values like small government and low taxes. Their aim is to broaden the Republican base and ensure its relevancy as a national party. Winning that internal debate over the party's future, though, won't be easy.
---