Blagojevich readying for an uphill fight
In the Illinois governor's corruption case, the law gives prosecutor the edge, analysts say.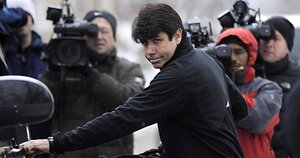 Paul Beaty/AP
If Illinois Gov. Rod Blagojevich intends to fight both impeachment and the criminal charges against him, as he has been signaling, a possible line of defense might be an assertion that talk is talk – and nothing more.
The talk, infamously vulgar as quoted from federal wiretaps on the governor's phones, is of course about his apparent desire to get money or a plum job in return for an official decision, such as naming Barack Obama's successor in the US Senate. One area of argument, hinted at by Governor Blagojevich's high-profile defense lawyer, is that the wiretap evidence is inadmissible in court. Another may be whether there's evidence that the governor had an actual plan to extract favors and would carry it through.
As impeachment proceedings began this week in Springfield, the state capital, many legal analysts say the 76-page complaint the US attorney already filed against Blagojevich lays out a fairly strong case – especially in a somewhat nebulous area of law that centers on whether a government official has deprived Illinois residents of his honest services.
"The prosecutor has the advantage of lots of laws that are very favorable to him and unfavorable to the defendant," says Prof. Al Alschuler of Northwestern University School of Law, noting that US Attorney Patrick Fitzgerald has prosecuted a number of similar cases, including some that looked weaker than this one, without losing any. Even if none of Blagojevich's apparent attempts to gain personal and campaign favors came to fruition, he says, "a scheme is enough."
---
Follow Stories Like This
Get the Monitor stories you care about delivered to your inbox.