Election '08 is causing a 'brain drain' on Capitol Hill
But many exiting lawmakers also bring years of experience to the Obama administration.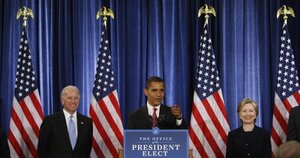 Charles Dharapak/AP
The Senate is going through a brain drain, of sorts, with two senators leaving to take the top spots in the White House, two more leaving to join the cabinet, and then an assortment leaving through retirement and defeat – including the longest continuously serving Republican senator in history.
Turnover, of course, is normal, but this year there's a twist: both the new president and vice president are leaping straight from the Senate. The last time that happened was in 1960, with John F. Kennedy and Lyndon Johnson. Then add the two senators who have been nominated to join President-elect Obama's Cabinet – Hillary Rodham Clinton as secretary of State and Ken Salazar as Interior secretary. Usually, just one senator gets plucked for a new cabinet, notes associate Senate historian Donald Ritchie.
Another Senate insider who will be at the Obama table is former Democratic majority leader Tom Daschle, tapped to be secretary of Health and Human Services and director of the new White House Office of Health Reform.
---