'Nothing inappropriate' in Obama-Blagojevich contacts, report finds
Emanuel offered names for Obama's Senate seat but discussed no benefits to the Illinois governor as a result, concludes an internal report.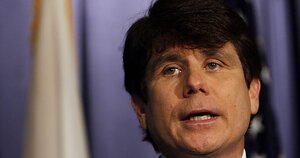 Jeff Haynes/Reuters
As the saga of Gov. Rod Blagojevich and his alleged "political corruption crime spree" has played out over the past two weeks, it's been an unwelcome distraction for another politician from Illinois: President-elect Obama.
The Obama team hoped to put to rest some of the speculation with its own findings, issued Tuesday, claiming that transition team contacts with the Blagojevich administration were limited and involved no impropriety.
"We are satisfied that there was nothing inappropriate that took place here ... between transition officials and the governor's office," said Greg Craig, the incoming White House counsel who completed the internal report, in a phone call with reporters late Tuesday.
Nor, concludes the report, did Mr. Obama or any members of his transition team ever hear a suggestion that Governor Blagojevich "expected a personal benefit in return for making this appointment to the Senate."
Obama and his aides have not been implicated in the case so far, and the former Illinois senator has never had a close relationship with Blagojevich. But the fact that the juiciest of the allegations involve the governor's apparent attempts to "sell" Obama's vacated Senate seat – and his hopes that he might gain something of value from Obama for naming the president-elect's preferred candidate – has been enough for some critics to claim that the charges taint Obama, or at least his chief of staff, Rahm Emanuel, the only transition-team official to have had direct contact with Blagojevich.
---