Obama "slights" the South in picking his team
Regional rivalries may no longer count, especially in tough times like these.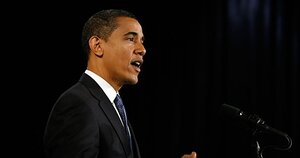 Pablo Martinez Monsivais/AP
With about a third of the US population, the American South has established itself as an economic and political juggernaut.
But it's not gone without notice here that President-elect Obama is the first president in a generation to look beyond Dixie to build his White House brain trust.
Is the dearth of dyed-in-the-cotton Southerners from the Obama cabinet really an out-and-out snub? Or is it simply a reflection of Mr. Obama's own social circle – his team includes seven Ivy Leaguers and four New Yorkers – and the political reality that regional rivalries no longer matter as much?
Either way, the implications could be significant for the future of the Democrats' 50-state strategy and the stature of the South on the national stage.
"It is an interesting shift," says Gary Jacobson, a political scientist at the University of California, San Diego, in an e-mail. "Republican rule has had a strong Southern accent going back to the Republican takeover [of Congress] in 1994, and the defeat of that whole regime has resulted in a major regional power shift."
To be sure, the speed at which Obama named the cabinet – drawn primarily from New England, the Midwest, and the West – indicates to many observers a deliberate political strategy.
---