Defiant Blagojevich announces replacement for Obama's Senate seat
His pick, former Illinois attorney general Burris, is well-regarded but lost his last four campaigns.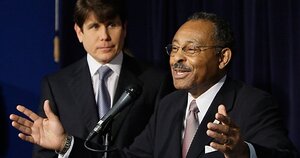 M. Spencer Green
In defiance of the US Senate leadership, embattled Illinois Gov. Rod Blagojevich decided to name a replacement to Barack Obama's vacated Senate seat on Tuesday.
In naming Roland Burris, a longtime African-American politician in Illinois who has served as the state's comptroller and attorney general in the past, Governor Blagojevich acted within his legal rights, as the sitting governor. But the appointment ran counter to the wishes of the Illinois legislature, all 50 members of the Senate Democratic Caucus, and the governor's own previously stated intentions.
"Please don't allow the allegations against me to taint this good and honest man," Blagojevich stated in a press conference, referring to the criminal charges that claim that, among other things, he tried to "sell" the Senate appointment. Blagojevich defended his action by saying that he had a legal obligation to make the appointment.
Reactions to news of the appointment were swift and generally negative.
Illinois Secretary of State Jesse White declared that he won't accept any paperwork that Blagojevich files to name a new senator because of "the current cloud of controversy surrounding the governor." The Illinois legislature has initiated impeachment proceedings against Blagojevich.
---