Congress returns to an 'intense' opening
There's impetus to move quickly on the economy though some seats are empty.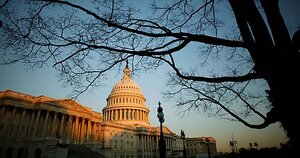 Jim Young/Reuters
With more robust majorities in both houses of Congress and a deepening global financial crisis, Democrats aim for a quick start to the 111th Congress, including swift passage of an economic recovery plan expected to cost between $850 billion and $1 trillion.
Not since President Franklin D. Roosevelt and the New Deal have public expectations been so high – or so acute – at the start of a new Congress.
"Economists from across the political spectrum agree that if we don't act swiftly and boldly, we could see a much deeper economic downturn that could lead to double-digit unemployment and the American Dream slipping further and further out of reach," said President-elect Barack Obama in a radio address on Saturday.
In the two weeks between the convening of a new Congress on Tuesday and Inauguration on Jan. 20, House Democrats plan to move legislation on issues key to their base – bills making it easier for workers to sue for pay discrimination and organize a union – then move toward votes on a plan to create some 3 million new jobs.
Elements of the plan include doubling renewable energy production and renovating public buildings to make them more energy efficient, rebuilding the nation's roads, bridges, and schools, computerizing medical records to save costs, and cutting taxes for 95 percent of American workers.
Democrats are also ramping up new legislation to overhaul the nation's health-care system and to leverage a move toward alternative energy sources. The Senate Energy and Natural Resources Committee holds its first hearing on energy security issues on Jan. 8.
---