Obama likely to retool Bush's faith-based initiative
Thorniest issue is over staffing for religious groups whose programs get federal funding. Can hiring be limited to adherents of their own faith?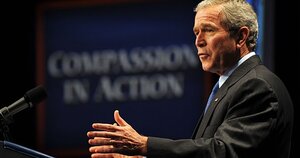 Mandel Ngan/AFP/NEWSCOM/FILE
President-elect Obama has promised to build on the faith-based initiative of President Bush and, by adding key reforms, to make it "the foundation of a new project of American renewal." But to do that, his administration will need to resolve constitutional and other tangles that have made Mr. Bush's effort so controversial.
If Mr. Obama succeeds, an initiative that at times has provoked sharp division over how best to provide needy people with social services could become, rather, a unifying force in helping to address needs amid a period of severe economic duress. Faith-based groups, after all, won the most kudos for effectiveness from survivors of hurricane Katrina, and they are helping thousands now during the economy's travails
"It's important for the new administration to say, 'We are going to reconcile two fundamental values: our commitment to meet pressing needs and to respect constitutional guarantees [preventing government establishment of religion],' " says Melissa Rogers, coauthor of a Brookings Institution report that recommends "a new path" for the endeavor.
Tackling the church-state issue head on, the Obama transition team has engaged a large advisory committee – involving people with differing perspectives on the most contentious issues – to help it design a government-neighborhood partnership.
The broad outreach "is a matter of great credit to [Obama]," says Stanley Carlson-Thies, who served in the Bush faith-based office and is participating in the discussions.
---