A safety net for government jobs?
Obama's stimulus plan may strive to prevent layoffs of public-sector workers in states, cities.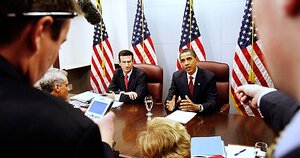 Gerald Herbert/AP
In Washington this week, President-elect Obama called on Congress to create 3 million jobs over the next two years – "more than 80 percent of them in the private sector."
Republicans on Capitol Hill did a little quick math: That means 20 percent, or some 600,000 new jobs, will be in the public sector. That would boost the ranks of federal employees by a third, they said, none too pleased about the prospect of a "big government" revival.
"The federal government is bloated, inefficient, and spends too much of your hard-earned money," said Rep. Steve King (R) of Iowa, in a statement. Some 600,000 new government jobs "will only add to the waste, fraud, and abuse coming out of Washington, D.C., and fail to provide a true economic stimulus."
But that calculus leaves out a key phrase that Obama transition officials insist is part of the president-elect's plan: to create "or save" 3 million jobs. "The vast majority of government jobs will be state and local jobs being saved," said one official, speaking on background.
The debate over whether public- or private-sector jobs deserve a bigger backstop in a troubled economy is reviving one of the most enduring fault lines in American politics.
When President Franklin Roosevelt launched his Works Progress Administration in 1935, conservative critics called it a boondoggle. Many liberals, then and now, saw the program as transforming and as a big boost for the nation. By its demise in 1943, the WPA had employed some 8.5 million people and created roads, schools, bridges, and works of art across America.
---