Obama inherits $1.2 trillion deficit – even before new stimulus
President-elect strikes tone of fiscal prudence by appointing efficiency officer.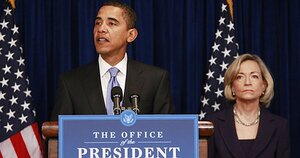 Jason Reed/Reuters
President-elect Obama and his team are about to inherit the biggest federal deficit since World War II – or the biggest ever, depending on how you measure it. Then, they're going to propose adding almost a trillion dollars in new stimulus spending on top of that.
That's why Mr. Obama is trying to convince voters that they can trust him with the US government's checkbook.
So far this week, he's warned of the dangers of federal red ink to come and named a "chief performance officer," who will try to wring waste and inefficiency out of Washington's budget.
Of course, for the incoming administration, attempting in advance to develop a reputation for fiscal prudence is probably a political necessity. For fiscal year 2009, which began this past Oct. 1, the federal government will run $1.2 trillion in the red, said the Congressional Budget Office (CBO) in a dire projection released Jan. 7. That's without counting any Obama stimulus spending, since such a package has yet to be formally proposed, much less passed.
And that stimulus package could still face a difficult time in Congress if fiscal conservatives can successfully define its author as just a traditional big-spending Democrat in new clothes.
"In order to make these investments that we need, we will have to cut the spending that we don't," Obama said at a Jan. 7 news conference.
Nancy Killefer, director of a management-consulting firm and former assistant secretary of the Treasury, will serve as the chief performance officer. She will work with the Office of Management and Budget to streamline processes throughout the government and help agency heads better manage their people and money, according to transition officials.
"Government has the capacity to deliver services more efficiently and effectively," said Ms. Killefer at the news conference. "I've seen it done."
---