Obama's case for action
Spending big on the economy is less risky than doing too little, he asserted Thursday.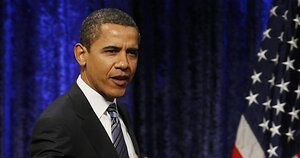 Charles Dharapak/AP
Yes, a new US stimulus package will be very expensive. Yes, the federal budget is already burdened with record debt. But only Washington has the resources to do what needs to be done, and the risks of inaction, or too little action, are far greater than those of spending too much.
In sum, that's President-elect Obama's message to the nation, as he tries to prepare the ground for quick congressional action on his proposal for a massive new economic stimulus program.
In many ways, Mr. Obama's push is unprecedented. He hasn't yet made a single phone call from the Oval Office. But he's hard at work trying to build voters' trust, not just in his administration but in the capabilities of government itself.
"The American people are deeply ambivalent at this moment," says William Galston, a senior fellow in governance at the Brookings Institution in Washington.
"On the one hand, they broadly support the new administration and want it to succeed. On the other hand, there is deep skepticism about the ability of government to do the right thing and to do it effectively."
Obama on Thursday capped a week-long push for his economic approach with a speech that made his most detailed case yet for the forthcoming financial rescue package.
He warned that the economy could further deteriorate, plunging the nation into dire times, absent quick action by Washington on a huge stimulus package.
---