D.C. readies as millions head to city
Obama's inaugural events are expected to draw unprecedented crowds.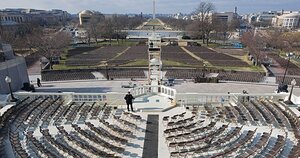 Paul J. Richards/AFP/Getty images
Sonya Ali is bracing herself for Inauguration Day. Since Barack Obama ate lunch last Saturday at her family's diner – Ben's Chili Bowl, a Washington landmark – folks have been stopping by to see where the president-elect sat and then order what he had: a chili half-smoke and sweet tea.
But nothing will compare with the crowds expected on Jan. 20, when the District of Columbia will play host to an unprecedented crush of humanity, coming to witness history as America inaugurates its first black president.
Predictions range from 1.5 million to 3 million visitors, but who knows? Weather will be a factor. Around town, inaugural planning – both official and unofficial – has been in the works for months. Essential employees who work downtown are preparing to sleep at the office on inauguration eve, rather than risk traffic the next morning. Restaurants are laying in extra supplies.
"Fifty big cans of potato chips came in today, and 100 more are coming tomorrow," says Ms. Ali. She predicts hours-long lines at Ben's on Tuesday, "bigger than [at] our 50th anniversary last summer."
Around the White House, signs of presidential turnover abound. Construction workers are putting the finishing touches to the reviewing stand for the inaugural parade.
---