Holder denounces waterboarding, other forms of 'torture'
Says an assessment of past political interference with the Justice Department 'has to be done'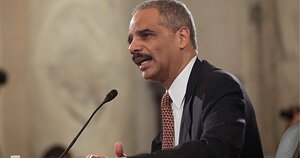 Evan Vucci/AP
Attorney General-designate Eric Holder pledged to fight terrorism and reinvigorate the Justice Department's "traditional missions" – to protect public safety and safeguard civil rights – at his Senate confirmation hearing Thursday.
Responding to senators' questions on issues ranging from terrorism to Clinton-era pardons, Mr. Holder said nothing is more important than protecting the American people from terrorism.
"I will use every available tactic to defeat our adversaries, and I will do so within the letter and spirit of the Constitution," he told the Senate Judiciary Committee.
"Waterboarding is torture," he said, in response to the No. 1 question at his hearing, first posed by chairman Patrick Leahy of Vermont, but amplified by other senators. Asked whether "painful stress positions, threatening with dogs, forced nudity, and mock executions" also constituted torture, he first said he was "not as familiar with those techniques," then added: "I believe they do."
At the same time, Holder laid out sharp distinctions in approach with the Bush administration's Justice Department, which has been battered by allegations of political interference and partisanship.
"An assessment has to be done and that assessment has already begun," said Holder.
---