Bush's swan song: Pride in country, few regrets
In his final address to the nation, he reviews his accomplishments with a sense of wistfulness.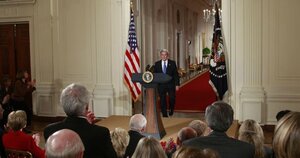 Jason Reed/Reuters
In his farewell address, President George W. Bush wished his successor well, defended his record, admitted he would do some things differently, warned of terrorist dangers, and looked to the future with optimism.
His 13 minute talk from the White House East Room was, "a final opportunity to share some thoughts on the journey we have traveled together and the future of our nation," Mr. Bush said.
He also thanked the American people "for the trust you have given me." The outgoing president spoke before an audience of about 200 which included family, friends, and 45 individuals singled out for various kinds of national service. Administration officials said the talk was the last time Mr. Bush would appear in public before greeting Barack Obama on the North Portico of the White House Tuesday morning for their trip together to the Capitol for Obama's inauguration.
The tradition of presidential farewell addresses began with George Washington whose message to the American people was printed on September 19, 1796 in a Philadelphia newspaper and later reprinted by papers around in the country. The first president used the lengthy article to warn against entanglements with foreign countries. "It is our true policy to steer clear of permanent alliances with any portion of the foreign world," Washington said. One of the most memorable address in the 20th century came from another president who had been a general, Dwight Eisenhower. In his January 17, 1961 farewell address, Eisenhower famously warned, "We must guard against the acquisition of unwarranted influence, whether sought or unsought, by the military-industrial complex." In recent years, Presidents Carter, Reagan, and Clinton gave farewell talks. President George H.W. Bush did not.
---