For thousands of Americans, there was only one place to be
Inauguration Day was a lens through which many interpreted their own stories.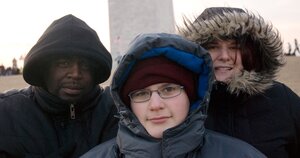 Sarah Beth Glicksteen/The Christian Science Monitor
Even before dawn, the National Mall began filling up with throngs of people – happy, diverse, supportive – with no doubt as to why they were there.
The inauguration of Barack Obama was a historic moment, and despite the distance, the hardship, and the bitter cold there was no other place to be.
For some, the day marked a lifetime of protest and hope, a celebration of values they hold dear. For the youngest among them, it was a chance to see something great.
Some faced the day wrapped in fur and leather, others in sweatshirts that barely kept out the cold. What they shared was a sense of the momentousness of the moment.
"It seemed impossible to stay at home when something so important was going on," said Lucinda Leach, in from the D.C. suburb of Takoma Park.
After riding in a bus all night, students from New York's Daly Day Academy watched the dawn huddled together against the cold on a stone wall in the shadow of the Washington Monument.
"They could be sitting at home in a warm, cozy place, but this is history," said Principal Judy Phillips. The students, ranging from fourth to seventh grade, left home in the Bronx at 11 p.m. and arrived in Washington at 4:30 a.m.
---