Inauguration bound: Riding the Metro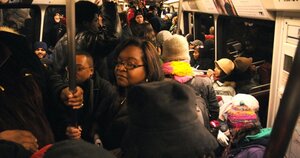 upi/newscom
Ever wonder why so many people think it would be great to be an American? All I had to do was get on the Washington Metro this morning in Silver Spring, Md., and any lingering doubts just disappeared. It was about 6:15 a.m., and I got on at one of the first stops on the Red Line. It was already rush-hour packed. People were bundled up, smiling, bumping into each other, and joking. It was a like a big adventure that everyone was sharing.
"Happy Inauguration!" someone said.
"You, too, you too," came a chorus from the crowds.
McAllister Hayes was one of them. He's originally from Tennessee but now lives in Maryland. He was standing crowded in a corner by the Metro car doors with his wife and daughter. He had all of the usual things to say about this being a historic day for America and the world and an extraordinary moment for African-Americans like him. He works at the Department of Defense, but this is the first time he's ever wanted to go to an inauguration.
"The change that's coming about, it just makes me proud," he says.
When he was a little kid, he did believe he could become president – just like the cliché says. But then he grew up. "Events, things that happened, and the way things were, then I realized it probably was not possible," he says. "But this - this has changed my mind drastically, like it has a lot of people."
---