Inauguration signals new era - World War II vet 'knew it would come'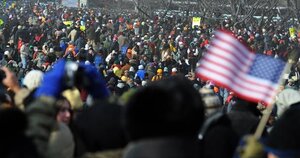 afp/newscom
Some stories today need to be told. William Holton's is one.
Standing a few blocks from the White House, having just heard Barack Obama take the oath of office, the 81-year-old World War II vet says he "always knew" this change would come.
Confident
He was confident, even back when he was on a segregated ship fighting for freedom in the Philippines. He didn't give up after the war, either. That's when he became the first black engineer stationed on a repair ship at the Norfolk Navy Yard in Virginia.
"They didn't know what to do with me," Mr. Holton says, recounting the story as he held his wife's hand in the cold breeze in the crowd. "I should have been billeted with the other engineers, but they said 'We think you'd be more comfortable housed with the cooks and stewards.' And so that's where I was billeted."
Targeted
Within days, another sailor started scribbling graffiti around the ship.
"I worked in the machine shop, and in black crayon he wrote 'The Black Cat Works Here.'
"At the dining room where I ate, he scribbled 'The Black Cat Eats Here.' "
It took the officers a while to find the culprit. In the meantime, Engineer Holton was taken off the ship and sent to advanced diesel engineering school.
"While I was gone, they found out who did it and he was transferred. From there on in, I never had another bad time," he says.
---