Now president, Obama plans urgent first steps
He plans to shore up America's stumbling economy and address pressing issues on the international front.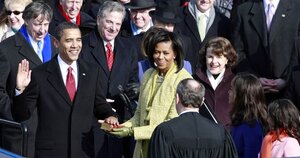 Mark Wilson/AP
President Obama is expected to use executive orders and the bully pulpit in his first days in office to mark a symbolic break from the policies of the past eight years.
In taking the oath of office Tuesday, the 44th president of the United States, the first African-American to lead the country, used that pulpit to rally the citizenry to stand with him, calling for a "new era of responsibility" in the "midst of the crisis." Noting the US is at war and the economy badly weakened, Mr. Obama called on Americans to "seize gladly" the duties before the nation during "this winter of our hardship."
"Our challenges may be new. The instruments with which we meet them may be new," he said, as the sun shone and a chilly wind blew across the millions of people packing the Mall before him. "But those values upon which our success depends – hard work and honesty, courage and fair play, tolerance and curiosity, loyalty and patriotism – these things are old. These things are true. They have been the quiet force of progress throughout our history. What is demanded then is a return to these truths."
Obama will begin his term with aggressive measures to shore up America's stumbling economy, urging Congress to act quickly on what he calls "a bold, aggressive investment and recovery package," his aides say. At the same time, he'll call on banks that took federal bailout money to be more accountable and to start lending money more freely.
---