What Obama's inaugural speech achieved – and what it didn't
It was deft. It was dignified. It also aimed to lower Americans' expectations for better times soon.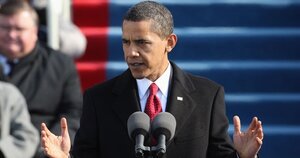 Ron Edmonds/AP
Historians may remember Barack Obama's inaugural address as a good speech, well delivered, a call to the United States to rise and fight its troubles. They might say it was unifying, a break with the past, a clever attempt to pull the Democratic Party toward the political center.
They could say all those things. But inaugural speeches, if they're remembered at all, get one line in the books. FDR told us not to fear. JFK told us not to ask what our country could do for us. And President Obama? His speech occurred.
Millions of people did not jam Washington to hear Obama's ideas about Afghanistan. They wanted to see the first African-American president with their own eyes. These are the words they came for: "... a man whose father less than 60 years ago might not have been served at a local restaurant can now stand before you to take a most sacred oath."
After he said that, the crowd roared so loudly that for a moment you thought they could hear it back in Illinois.
In general, Obama's speech marked a high ceremony with dignity. It soared, enough. It talked of today's troubles but offered hope for tomorrow and aimed for a boost in morale.
"It did what an inaugural speech is supposed to do," says Leo Ribuffo, a history professor at George Washington University's Elliott School of International Affairs.
The new president's words describing the current economic crisis were fairly tough. He ascribed it to "greed and irresponsibility on the part of some," but he also hit "our collective failure to make hard choices."
---