Barack Obama's first moments in the Oval Office as President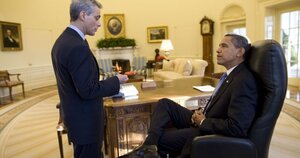 afp/newscom
Barack Obama entered the Oval Office as president for the first time Wednesday morning at around 8:35 a.m., according to Press Secretary Robert Gibbs.
It was a later arrival than his predecessor, George Bush, who was often in the Oval Office before 7:00 a.m. But President Obama had a late night Tuesday, returning to the White House after dancing at a series of inaugural balls around 1 a.m. Wednesday morning.
Time alone in the Oval
The new president spent about 10 minutes alone in the Oval Office which looks much as it did when George Bush was president. Mr. Obama decided to keep both the massive desk, made of timbers from the British ship Resolute, and the cheery rug designed by Laura Bush that were in his predecessor's office.
After ten minutes alone, at 8:45 a.m. White House Chief of Staff Rahm Emanuel entered the room to brief the president on the events of the day. Michelle Obama joined the president in the Oval office at 9:10.
---