After a big political flap, New York gets its new U.S. senator
U.S. Rep. Kirsten Gillibrand, who's relatively conservative, is named to take the seat vacated by Secretary of State Hillary Clinton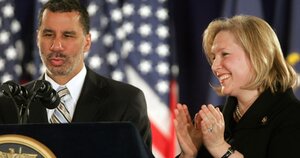 Mike Groll/AP
Her nickname as an up and coming New York Congresswoman was: "Little Hillary."
But her title will soon be United States Senator.
Kirsten Gillibrand a young, blond, moderate Democrat from Upstate New York will succeed now Secretary of State Hillary Clinton as New York State's junior senator.
Governor David Paterson made the announcement at noon today.
"I have found the best candidate to be the next United States Senator from New York," said Governor Paterson at a press conference in Albany. "Kirsten Gillibrand is dynamic, she is perceptive, she is courageous, she is outspoken."
Congresswoman Gillibrand (D) is a relative unknown who has just begun her second term, a Blue Dog Democrat representing the conservative 20th District in the Hudson Valley. She meets two of the key qualifications Paterson set for his choice: she's a woman and she's from Upstate. That's expected to help the downstate governor when he runs for election in 2010 on the same ticket. The choice, though, rankled some older political hands who'd hoped for the seat and some liberals concerned about her pro-gun stance, but it's being praised overall.
---