Still standing room only in the White House briefing room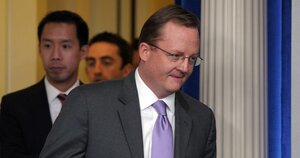 upi/newscom
For the second day in a row, presidential press secretary Robert Gibbs drew a standing room only crowd for his daily briefing.
But the scene on Friday was a good deal less chaotic than at Gibbs' first briefing on Thursday. Then, according to Washington Post columnist Dana Milbank's count, there were more than 100 reporters crammed three deep in the aisles as well as 49 in assigned seats. On Friday, the crush was not as severe, nor the room as hot.
Gibbs nattily dressed, bringing news nuggets
At the 1:00 p.m. appointed start time Friday afternoon, Gibbs aide Josh Earnest appeared at the front of the room to announce a new "target" time of 1:15. Gibbs appeared three minutes after the target, nattily dressed in a grey suit, white shirt, and purple tie.
Gibbs served the assembled reporters several news nuggets including:
* President Obama will likely deliver a State of the Union Address to Congress in February. He quipped that network TV executives had expressed concern about the scheduling lest the speech conflict with "Dancing with the Stars."
* President Obama called several foreign leaders on Friday including Canadian Prime Minister Stephen Harper, British Prime Minister Gordon Brown, and Saudi King Abdullah.
---