Obama sets himself a high political bar
The economic stimulus bill is his first big test in replacing 'old habits' with less partisanship in Washington.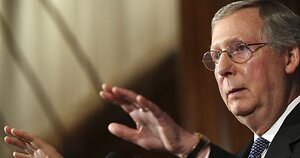 Pablo Martinez Monsivais/AP
President Obama did not win a single Republican vote in the House of Representatives for his giant economic stimulus bill this week. So does that mean he wasted his time reaching out, to an unusual degree, to Republicans?
Not yet, anyway. By making very public overtures – traveling to Capitol Hill, inviting Republican members to the White House more than once, including to a cocktail party after Wednesday's vote – he has already distinguished his administration sharply from those in recent memory, analysts say. And he's begun work on the difficult task of remaking the highly partisan culture of Washington, as promised in his campaign.
Mr. Obama himself has stated that "old habits die hard," and he seemed unperturbed, at least in public, that he failed to gain any Republican votes.
But his administration also knows that the House vote is just the opening act in a multi-act drama that will play out well into next month in this high-stakes effort to address a sinking economy.
"There's definitely a longer-term strategy here," with all this outreach by Obama, says Norman Ornstein, a resident scholar at the American Enterprise Institute. "And it's going to be interesting to see in the end if the Republicans get nervous enough that the final vote is a different one."
---