Illinois's Gov. Pat Quinn faces a daunting to-do list
Blagojevich's replacement, known as populist with an unassuming manner, has inherited a state government in crisis.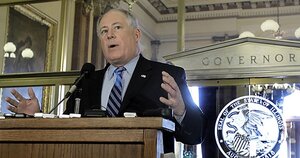 SETH PERLMAN/AP
Call him the anti-Blagojevich.
Whereas Illinois's former governor was a showman who loved the limelight and was known for his bravado and unforgettably coiffed hair, its new one – Pat Quinn – is unassuming and modest, a populist reformer who is usually in the background and has slowly risen through the ranks of Illinois government.
To the people of Illinois, tired of being the butt of national jokes in a nearly two-month ordeal that ended with Rod Blagojevich's conviction on impeachment charges Thursday, that may not be a bad thing.
While Governor Quinn has the advantage of coming into office on a surge of goodwill and without any taint of corruption, he also faces a daunting array of challenges: the worst fiscal crisis in decades, understaffed and poorly staffed agencies, and a government in which the public has lost confidence.
"He faces an incredible challenge because the former governor has left the state in shambles," says Christopher Mooney, a political scientist at the University of Illinois in Springfield, calling Quinn a sort of "wild card."
"How well he'll deal with the budget problem, I don't know," says Professor Mooney. "But government ethics and anticorruption and helping the little guy – that's what Pat Quinn's all about.... And recuperating the image of state government in the eyes of the citizens is almost as important as solving the state budget problems."
---