With Daschle's withdrawal, can Obama repair image as 'change' agent?
The nominee for secretary of Health and Human Services bowed out Tuesday over tax missteps, as did another Obama pick.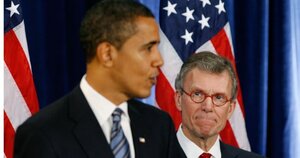 Jeff Haynes/Reuters/File
WASHINGTON – It was the worst day yet in Barack Obama's young presidency: two failed high-level appointments, one of them a close confidant, Tom Daschle, whom he had nominated for Health and Human Services secretary and White House health czar.
By the end of Tuesday, President Obama had placed the focus squarely on himself. "I screwed up," he told network television. But the image, just a day earlier, of Obama strongly defending a cabinet nominee who was caught owing $128,000 in back taxes will be hard to erase.
"Obama has work to do to restore his image as an agent of change," says Julian Zelizer, a congressional historian at Princeton University in New Jersey.
The demise of Mr. Daschle's nomination demonstrates the challenge a new president faces in staffing his administration with people who know the ways of Washington and can hit the ground running but aren't tainted by their associations. As a former Senate majority leader, Daschle stood to make a lot of money through his connections – and he did. Questions had also been raised about speaking fees he had received from healthcare groups, a potential conflict of interest, as he prepared Obama's initiative to reform the system.
---