Obama performance czar Killefer withdraws over bungled taxes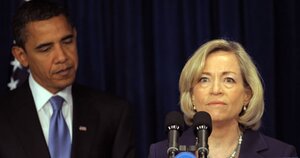 AFP/NEWSCOM/FILE
One more Obama Administration official with tax problems was apparently one too many.
So this morning Nancy Killefer, selected to be the nation's first chief performance officer, withdrew her name from consideration. The White House released a terse, five sentence letter from Killefer to the President at 11:09 a.m.
Worried about distraction and delay
Killefer, an executive with the McKinsey & Company consulting firm, said the duties facing the peformance officer are "urgent." She said she had "come to realize in the current environment that my personal tax issue of D.C. Unemployment tax could be used to create exactly the kind of distraction and delay those duties must avoid. Because of this I must reluctantly ask you to withdraw my name from consideration."
The performance czar position did not require Senate confirmation but her nomination as deputy director of the Office of Management and Budget (OMB) did.
Her tax woes come after Treasury Secretary Timothy Geithner belatedly paid $34,000 in back taxes before being confirmed. Meanwhile, the Senate is considering whether to confirm Health and Human Services Secretary-designate Thomas Daschle after he had to pay $129,000 in back taxes run up, in part, for the use of a limousine and driver provided to him gratis.
---