Second-graders brighten Obama's Daschle-dashed day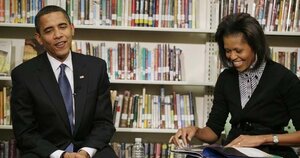 upi/newscom
A mid-afternoon visit to a second-grade classroom must have brightened what was a tough day for President Obama.
Barack and Michelle Obama climbed into their limo Tuesday shortly after the news broke that presidential friend and political mentor Tom Daschle was dropping out of contention for the post of secretary of Health and Human Services due to tax troubles.
With police blocking every intersection, the 14-vehicle motorcade may its way down a busy Washington street to the Capital City Public Charter School in only 8 minutes.
School officials knew the president and first lady would visit, but the destination was kept secret from the press and public until the motorcade arrived at the school.
Tired of the White House
In explaining his visit to the class, the president said, "We were just tired of being in the White House." Only the hardest of hearts could fail to sense the joy in the faces of the 25 admiring children who greeted the Obamas.
The first couple entered the white-walled, blue-carpeted classroom with the president saying, "Hello, everybody." Education Secretary Arne Duncan trailed them into the classroom.
Mr. Obama, dressed in a blue suit, white shirt, and blue tie, walked around the classroom shaking hands saying, "Good to see you guys." After shaking a number of students' hands, he asked, "Did I get everybody?" No, was the reply. So more handshaking ensued.
---