The emerging stimulus bill: still big
The Senate is likely to vote Tuesday on its version. Talks with the House are already beginning.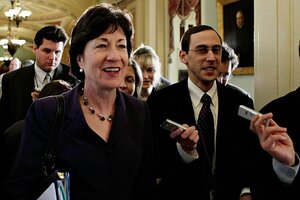 J. Scott Applewhite/AP
Even before the Senate approves an economic recovery package, House and Senate leaders are thrashing out a joint version of a stimulus bill of unprecedented size and scope.
One issue is all but resolved: The legislation will come in close to the $820 billion that President Obama says is needed.
What's left is how to spend it, and the House and Senate versions of the bill diverge markedly in some areas, especially aid to the states, healthcare, education, energy, and tax policy.
In his weekly radio address, Mr. Obama emphasized the need for speed. He's expected to hit that point again Monday during a visit to Elkhart, Ind., where unemployment now tops 15 percent, and in a prime-time televised press conference.
"We can't afford to make [the] perfect the enemy of the absolutely necessary. The scale and scope of this plan is right. And the time for action is now," he said Saturday.
In the Senate, Friday's deal between Democrats and three GOP moderates brings a bill that had ballooned to $920 billion back in the president's target range. The House bill, approved Jan. 28, came in at $819 billion. A Senate vote is expected Tuesday.
The plan, negotiated by Sens. Ben Nelson (D) of Nebraska and Susan Collins (R) of Maine, cut $110 billion from the base Senate version of the bill.
---