After Senate passage, stimulus bill moves to next hurdles
Senate's $838 billion package of tax cuts and new spending must be reconciled with the House bill. There may be little room to maneuver.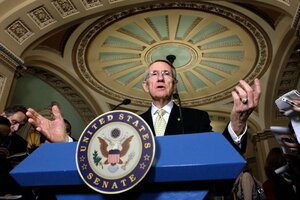 J. Scott Applewhite/AP
With the United States facing the most severe economic crisis since the 1930s, the Senate passed a massive stimulus plan Tuesday, valued at $838.2 billion, and House and Senate negotiators within hours began work to reconcile differences between the two chambers' versions of the legislation.
While most of the Senate bill closely tracks the House version, spending cuts negotiated to guarantee Senate passage are shaping up as flash points. The three Republican senators who voted for the bill and who helped to shape it, including $110 billion in cuts from the House bill, say they will not back a final version that restores those cuts.
Both the House and Senate will have to vote on the legislation in its final form.
Senate majority leader Harry Reid expressed optimism that most of the differences could be resolved quickly. Lawmakers have said they want to have a final bill on President Obama's desk by late this week or early next.
"We expect to have much of this down in the first 24 hours," Senator Reid said in a briefing after the vote.
About one-third of the Senate package goes to tax relief, including a $69 billion fix to curb the reach of the alternative minimum tax and $19 billion in tax credits for home buyers in 2009.
Key elements on the spending side include $39 billion to help states avoid layoffs, especially in public education; $27 billion to extend emergency unemployment benefits; $40 billion for the development of clean energy, and $23 billion for programs to help those most hurt by the economic downturn.
---