In Washington, a new willingness to prosecute food safety cases?
The federal government is considering whether to bring criminal charges in a salmonella outbreak that has killed nine people.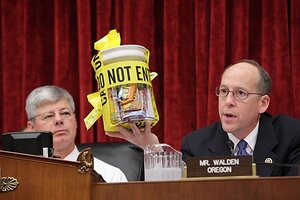 J. Scott Applewhite/AP
Food contamination is serious, but is it criminal?
With some notable exceptions, law-enforcement officers have been reluctant to overstep food-safety regulators to bring criminal charges against food suppliers or processors. Usually, people seeking damages have turned to civil courts for a redress.
That may be changing, however, as a consequence of the unfolding investigation of the Peanut Corp. of America and allegations that its CEO ignored evidence of salmonella contamination in a batch of its product, and sold it to clients anyway.
"Part of the system is the ability to penalize the people that fail," says Michael Taylor, a former policy commissioner with the US Food and Drug Administration (FDA). "And there's been a real failure to do so at the federal and state level."
So far, nine deaths and 600 cases of salmonella poisoning have been linked to products containing peanuts that came from Peanut Corp. of America (PCA).
Georgia officials say they will consider charging the company and its CEO, Stewart Parnell, with manslaughter, if federal authorities do not.
But legal experts say the current food-contamination scandal will test the willingness of federal law enforcement officials to use handcuffs against Mr. Parnell and other allegedly rogue operators in a country with some 60,000 food-production factories.
Washington appears to be taking food-related threats more seriously. Incoming Agriculture Secretary Tom Vilsack says he's as interested in serving "eaters" as "farmers."
---