What stimulus bill can, and can't, do
The $789 billion plan cuts taxes and shores up safety net. But how long will its benefits last?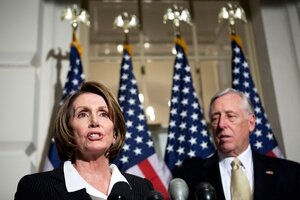 Joshua Roberts/Reuters
Congress is on track to approve a $789 billion economic stimulus package that eclipses all the war spending since US forces set foot in Iraq.
With bank credit still mostly frozen and consumer confidence in a trough, President Obama persuaded enough lawmakers that the only thing left to revive the economy is a massive infusion of government spending – and fast.
The plan set to clear Congress by week's end includes $282 billion in tax cuts and the remaining $507 billion in spending on issues ranging from education and road repair to a bigger social safety net.
When not loaded with "pork-barrel" spending, a stimulus plan is supposed to be "timely, targeted, and temporary" – a formula both Democrats and Republicans adopted as they worked on this legislation. But the bill's supporters and critics alike note that Congress is navigating uncharted waters, given the severity of the recession and the mammoth intervention by government.
The gap in gross domestic product between where the economy would be without a credit crisis and where it is today is about $1 trillion, many economists say. There's no established template for how to pull out of a gap of that magnitude.
The $789 billion is "certainly enough to make a difference," says Chad Stone, chief economist at the Center on Budget and Policy Priorities in Washington.
---