Will Obama keep some Bush antiterror tactics?
The new administration's stance in a rendition case raises questions about how much it will break from past policy.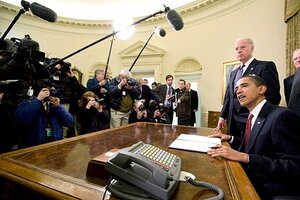 Larry Downing/Reuters/File
President Obama swept into the White House promising "change you can believe in." But some Obama supporters and human rights experts are beginning to wonder how much change is in store, particularly in the new administration's emerging antiterror policies.
In both his campaign speeches and the executive orders issued shortly after his inauguration, Mr. Obama raised expectations of a swift and substantial shift away from controversial Bush administration tactics. He has ordered Guantánamo shut down, secret CIA prisons closed, and torture banned.
But at the same time he has established committees to study a range of options, including the possibility of continuing to use harsh interrogation tactics under certain circumstances.
Analysts are watching several pending legal cases to see which Bush administration policies the new president jettisons and which ones he embraces.
Many Obama supporters were shocked Monday when the administration refused to abandon a Bush administration assertion of the "state secrets" privilege in a lawsuit charging that the US government sent suspected terrorists to foreign locations to be tortured. The lawsuit was filed against an air carrier that allegedly flew the suspects to and from the torture sites.
The state secrets doctrine allows judges to short-circuit certain litigation when the judge determines that it involves highly sensitive government information which, if disclosed, would damage US national security. Critics say the Bush administration used the privilege to avoid embarrassment and judicial scrutiny. Supporters say the privilege is needed to keep secrets and protect the ability to gather intelligence.
---