To connect with 'real people,' Obama veers out of the Beltway
For the first two weeks of his presidency, he holed up in Washington. Now, he's crisscrossing the US.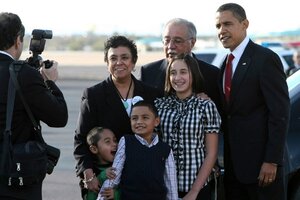 Gerald Herbert/AP
It is one of the great ironies of Washington: Aspiring presidential candidates toil for years to make it to the White House, and then when they get here, they high-tail it out of town as fast as possible.
Campaigning, and then governing, against Washington allows presidents to align themselves with "real people," as opposed to Beltway bureaucrats and Capitol Hill politicians. Even though presidents on road trips do travel in a bubble, surrounded by aides, Secret Service agents, and the White House press corps, they can experience authentic contact with members of the public if they choose – and can learn something from it.
For Barack Obama, just one month into his presidency, the contrast between the first two weeks and the second two weeks is striking. President Obama began his tenure holed up in Washington, wining and dining Republicans in hopes of gaining some support for his stimulus package. He got very little for his efforts. Public support for the plan began to sink.
Then Obama hit the road, holding town-hall meetings in various cities last week, spending the long weekend at home in Chicago, and then hitting the road again – signing the stimulus bill Tuesday in Denver and announcing his home-foreclosure plan Wednesday in Phoenix.
---