House GOP Leader Boehner: bullish on Obama speech, bearish on US economy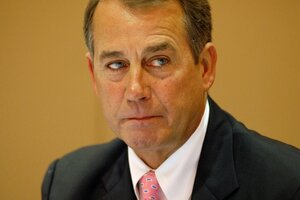 MARY KNOX MERRILL/THE CHRISTIAN SCIENCE MONITOR/FILE
House Minority Leader John Boehner thinks the US economic recession is still growing worse, said he agreed with most of Barack Obama's speech Tuesday to a joint session of Congress, and offered faint praise for the Republican party's official response to the President.
The Ohio Republican said "I would tend to agree with" economists quoted in the Wall Street Journal who say there is an "adverse feedback loop" where the recession and the financial crisis are feeding on each other, in ways that worsen both.
Problems feeding on each other
"We had a problem in the credit markets. We had a problem with toxic assets. And as the recession grows, it frankly will make more assets toxic, compounding the problem that our banks and financial institutions have," Boehner said at a Monitor-sponsored lunch with reporters.
Boehner was complimentary about the speech President Obama made in the House chamber Tuesday evening. "The President, I thought, made a compelling case last night that we can overcome the challenges our country faces especially when it comes to the economy," Boehner said.
Obama the conservative
The top House Republican added, "with few exceptions it is a speech I could have given. Probably not as well. It was a very conservative speech in terms if you want to get into ideology. There were very few parts of this that I disagreed with. But actions speak louder than words. The President made a pretty compelling case we ought to get rid of wasteful programs, we ought to get rid of a lot of these wasteful earmarks and says there were no earmarks in the stimulus bill…The fact is there were earmarks there."
Faint praise
---