Budget debate launches new tea party
Tax protesters gather around the country. Is it a GOP put-up job?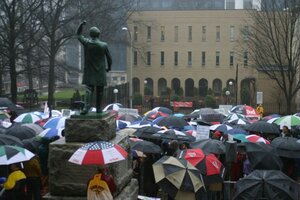 Patrik Jonsson
ATLANTA
Several thousand neopatriots – some shouting "Give me liberty or give me death!" – took to the streets in over 30 US cities Friday, representing what some of them call the beginning of a new conservative counterculture in America.
"The spark has been lit," says Ben Mihalski, a "house husband" from Cobb County, Ga., one of at least 300 protesters who gathered in a hefty downpour outside the Georgia Capitol on Friday to protest what they see as profligate spending by Washington.
Protesters with sign-slogans like "Pillage and plunder: At least the Vikings did it openly" fanned out across capitols and courthouses in cities from Nashville, Tenn., to Los Angeles, objecting to bailouts and policy changes since the inauguration of President Obama.
The Tea Party USA movement also added some symbolic flourish, vowing to gather tens of thousands of tea bags to be dumped on the floor of the US Congress. In Atlanta, the brand was Luzianne.
---