Obama kicks off health care week with two nominations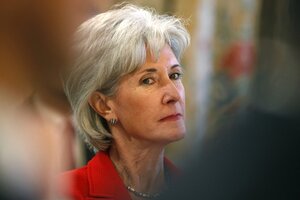 Kevin Lamarque/REUTERS
President Obama kicked off a week focused on health policy by naming two top officials to help with his goal of revamping the way health care is delivered in the United States.
The President nominated Kansas governor Kathleen Sebelius to be Secretary of Health and Human Services and Nancy-Ann DeParle to be Counselor to the President and Director of the White House Office of Health Reform.
Second choices
The two appointees are his second choice for their positions. Obama had nominated former Senate Majority Leader Tom Daschle for both jobs. Mr. Daschle withdrew after a storm of controversy arose over his failure to promptly pay $128,000 in taxes.
The roll out of the health policy nominees was accompanied by the release of $155 million authorized by the American Recovery and Reinvestment Act that will support 126 new health care centers. Obama said the centers will "help provide health care to an estimated 750,000 Americans across the country who wouldn't have access to health care without these centers."
---
Follow Stories Like This
Get the Monitor stories you care about delivered to your inbox.